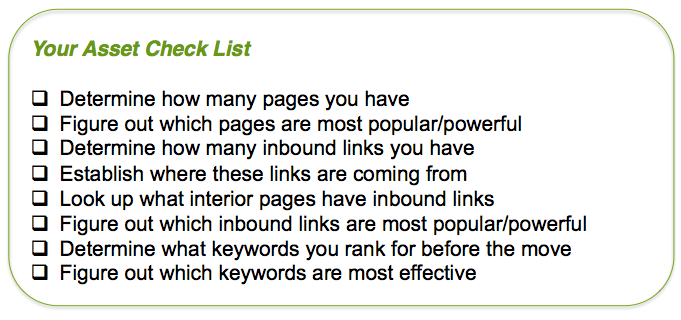 What is most important when you are considering a website redesign? Is it aesthetics? Navigation? New features? Before all of these, you need to consider Internet marketing and optimization. You need to cover your assets:

Triage your pages for online marketing effectiveness
Figure out how many pages you have, as your pages contain the text, images, video, and other elements that comprise your content, and it also houses your conversion tools - everything from buttons to submission forms. Take inventory of how many pages you have and determine which of them are more effective in which areas of Internet marketing.
For instance, some pages can generate a river of organic traffic, while some may not be as optimized but leads to conversion better. Rearrange your pages to take advantage of their track record of proven performance and mix and match elements. Remember to remove nonessential content and fluff, mark some content viable for re-purposing or updating, and generally adjust your content and conversion tools to combine the elements that generate traffic to the elements that capture leads and drive conversion.
If this cannot be easily or ergonomically done due to constraints in webpage real estate or the elements simply do not match, you can append your internal linking structure to connect the pages that have these elements, and tweak your calls to action to present these new internal links as "next steps" for your visitors.
What links drive the most traffic and conversions?
Inbound links determine authority in your targeted keywords; wrecking it unintentionally will not only hurt your Internet marketing efforts, but also your existing reputation and authority. This means redoing years of online marketing and branding - a very costly mistake for the simple error of not covering your link assets.
First, determine the number of your inbound links. Establish from where they originate and assess the authority of the websites that are linking to you. In Internet marketing, you want to be linked to by reputable, authoritative websites in your niche or related fields. Next, determine how many interior pages have inbound links, and when you have all this data, assess which of your links are most powerful - which are the ones that bring the most 'link juice.'
The goal is to bring more prominence to the pages to which these inbound links point to, or at least make them central to your internal linking structure, further bolstering the authority of individual pages and the website as a whole. Of course, the more popular the content in these pages are, the better your traffic and conversion rates will also become.
What SEO keywords do you rank for?
The keywords you target in online marketing dictate which niche or field you want your website to become an authority in. This means that redesigning your website before figuring out the keywords you are ranking for and the keywords that are most effective can lead to you inadvertently hurting your ranking and search authority.
How well you rank for keywords is closely related to your linking structure and your textual content, so determining which keywords you already rank highly for can also serve as a guide when taking stock of your pages and inbound links. You can choose to further exert your authority over these keywords or level out your Internet marketing campaign by being more aggressive with secondary keyword targets, or perhaps going for long-tail queries.
While the form and function of your new website is one of the most important steps in implementing a redesign, it only comes after covering the assets that boost Internet marketing and optimization. Contact a professional specialist to give you a much needed helping hand to avoid doing more harm than good when redesigning.