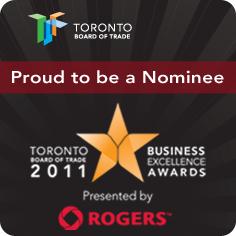 Fruition Interactive has been nominated as the Toronto Board of Trade's Business of the Year for 2011.
The Business of the Year award honours Toronto businesses that have demonstrated outstanding leadership, growth and innovation in business.
Fruition is nominated in the "Transition" category, which recognizes a business that has successfully experienced a transformation from a traditional business value or process.
The nomination is a big deal to us because… …it reflects and validates the tremendous changes that we've made here at Fruition in the past couple of years. It's happened gradually, so many of our clients haven't noticed, but looking back it's quite a change.
In our early days, we were positioned primarily as a technology services company. It took a while, but it finally dawned on us that most of our clients were coming to us not because they felt they needed technology but because they had goals for their business that were going un-met. And 9 times out of 10, that business goal was to generate new leads and sales to grow their businesses.
So, on top of changing how we communicated about  our already-successful Web design and development practice, we added some new capabilities towards becoming a full-service Internet marketing company.
We added world-beating Pay-per-Click (PPC) advertising services, fine-tuning and increasing ROI from clients' Google Adwords, LinkedIn and Facebook advertising campaigns.
We added an innovative package of Search Engine Optimization (SEO) services that help to rocket our clients' sites to the top of relevant search results and generate business-building traffic to their sites.
And we added social media strategy consulting to help retain and engage the leads that clients have worked so hard to get.
But most of all, we've taken our own advice. We launched our blog in 2009, and layered on a social media strategy not long afterwords. And we also launched PPC and SEO campaigns to reach new audiences with our message.
And, while we're content just to see our clients' satisfaction as they use our help to generate new leads and create new business for themselves, it sure feels great that someone — the Toronto Board of Trade, no less — noticed what we've been up to behind the scenes.