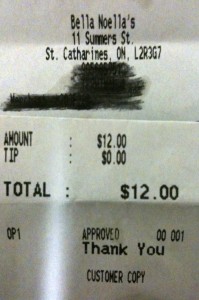 The receipt you see above is a direct result of this tweet (see below) by @eatingniagara, which included a picture of the pizza she had purchased from @BellaNoelaPizza in July (approx two months ago).
It looked really good.  So I retweeted it.  As a result, the following conversation ensued.  I ended the conversation with @eatingniagara by asking @BellaNoelaPizza what kind of pizza I should try?
Three hours later I got the following response:
Big Mac version pizza?  I was intrigued.
Over the last few months, I've been busy and kept putting off my promise to go and try their pizza.  During that time, I received a few updates and #FollowFriday mentions from @BellaNoelaPizza.  Not over doing it, but enough to re-focus my attention on the fact that I've got to at least give them a try.
Well, today, I'm happy to report that I went to Bella Noella's for lunch and shared two slices with @treatqueendiva - the famous Triple X (it actually does taste like a Big Mac) and the Buffalo Chicken Wing pizza.  They were good

The result.  Bella Noella's Pizza generated a sale ($12.00) and in the process has another loyal customer who is generating additional "word-of-mouth" marketing.
Why This Worked
As previously mentioned, I initially heard about Bella Noella's Pizza from @eatingniagara who, when it comes to food in the Niagara Region, knows her stuff (i.e. she's an influencer who I trust).
This generated "awareness" as well as "consideration" and "preference" over where I might get my next pizza slice from.
When I asked for a recommendation, Bella Noella engaged me almost immediately.  This showed they were listening and here to help.  This created the additional momentum for me to take "action" and "buy."
Once I decided to act and tried their pizza, I was hooked.  As a result, this created "loyalty." In addition, I've now become an "influencer." And the marketing process starts over again.

It really is that simple.
Mitch Fanning is VP of Strategy & Business Development for Fruition Interactive, an authorized member of Social Media Club, and one of four co-founding members of Social Media Club Niagara.
He's spent 10 plus years working with businesses of all sizes, from global brands including NBC.com to Canada's fastest growing Internet companies ranked in the 2009 PROFIT 100.  You can also follow Mitch on his adventures in new media at mitchellfanning.com.