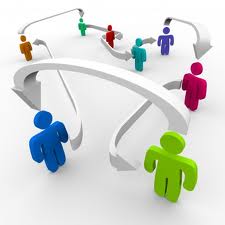 Today's post is by guest blogger Craig Robinson, an online writer for Qwaya , a facebook ad campaign tool. He loves to write about different topics about social media tips and strategies. Besides writing, he also enjoys engaging with different communities and social forums.
It's a brave new world out there, and when it boils right down to it, only tech-savvy, socially-aware brands are going to achieve success in a digital marketplace. Sure, if you're already an established business offline, then perhaps you don't need to go online to boost your brand's reputation, reach, and your bottom line. For everyone else, however, especially newcomers to business, marketing with a site like Facebook is a crucial element of success and survival.
There have been many "phases" on Facebook, for lack of a better term. Chasing down friends and followers, trying desperately to receive "Likes," attempting to expand your market – brands are constantly attempting to up their business daily.
What works the best on a site like Facebook? Time and again, statistics—and common business sense—show that engagement is what helps brands reach success through social networking.
Why Online Engagement Matters
One of the most important aspects to remember about engagement is that  engagement for engagement's sake is futile. It's basically just a Like. Yes, someone Liking a post or your page is engaging with you. But when we say engagement in this context, it goes deeper than that.
Engagement is about the back-and-forth interaction between you and your base. This includes dialogue – a user commenting on your posts, you commenting back, and actual dialogue being formed. It also includes people sharing your material with their friends, who may share it with theirs, and so on. Engagement is also definitely about opting into your network by way of a cool app or some features you're offering.
This type of engagement is crucial for your brand because it keeps people involved with your brand. Engagement on Facebook means that your brand is actually a part of the social experience.
So you don't fall into that trap of engagement for engagement's sake, let's go over a few simple things to remember about engagement.
Advertising and engagement are not silos. Although it can be obtained organically, a smart brand understands that paid advertising can reach more people, a more narrowly defined target, and thus engagement will increase.
You should always be careful not to confuse engagement with success. Remember that the engagement actually has to lead somewhere. It should, at the least, be leading people to opt into a network to become part of your sales funnel.
Brands should not stray from their image to earn engagement. I.e., if you're a straightforward, serious brand that posts useful information, don't pull a 180 in the hopes of earning a few laughs and Likes.
 Tips for Engaging Your Facebook Audience
1: Mix Your Content Up
Sticking with only high-quality content is a must, but you also have to stray from the norm here. Don't simply go with text-based posts on your wall; try to include some video clips, some entertaining photos, some cool apps, and other interesting content. Use every Facebook feature allotted to you in order to boost engagement. Just make sure it's in the purview of your brand.
2: Respond, Respond, Respond
Taco Bell and Dominos Pizza and other brands make a big splash every time they respond directly to a fan on Twitter or Facebook. Even if you're busy, you have to remember that it's a big deal to a fan when you take the time to respond to someone's question or complaint.
3: Be Very Exclusive
What are you offering that's setting you apart from the competition. If you can't think of anything off hand, then perhaps you should seriously consider doing something that makes you stand out as exclusive. Offer something for your followers that the basic passerby doesn't have access to. This will give people cause to engage. They'll want to see what's on the other side of that deal.
4: Be Descriptive about Your Brand
If you've been posting great content, offering exclusives and responding to people when they do engage, then you're bound to have quite a few people trying to contact you directly to find out more about your business. Make this simple for people by giving them detailed contact info and extra info about your brand. Take the opportunity with the new Timeline (to be released shortly) update to catalog important information on the right-hand side of the screen.
Getting people to engage with you can be as simple as focusing on quality, but it's engagement that leads to more conversions and a higher ROI that matters the most. So remember to stay focused on your long-term goals here.