To thrive and grow your business needs to get found, get leads and sales and encourage your customers to become your promoters. And since it's, you know, the 21st century and everything, the most effective way to do that is online. That's where Inbound Marketing services from Fruition Interactive come in.
What is inbound marketing?
In a nutshell? Inbound marketing is the most effective way to do business online. Instead of interrupting the thing that people love to get your message across – with ads, cold calls, emails from purchased lists – inbound marketing focuses on creating useful, informative content that people love to draw customers to your business.
By creating content your customers love (instead of getting in their way), you naturally attract inbound traffic that you can then convert, close and delight. At the same time, companies using inbound marketing report  lower costs per lead (CPL) and costs per customer acquisition (CPA) for inbound marketing.
Core inbound marketing activities
Attract
You don't want just any traffic to your site, you want the right traffic coming to your site. You want people coming to your site who are likely to become profitable customers. Some of the best ways to attract the right traffic are:
Blogging. Companies with blogs that inform and educate their prospective customers get the best marketing results. Blogging is the cornerstone of your inbound marketing strategy
Search Engine Optimization (SEO). If your customers are like most people, they start their buying journey with a search engine. You need to carefully choose keywords that your prospects are likely to use and then craft your content and the links back to your site so that you're highly visible for those searches
Social Media. By choosing to be in the social media channels where your prospects spend their time, you can help your content reach more people, interact with potential customers and create a more personal feel around your brand
Integration. Doing inbound marketing doesn't mean you stop doing anything else, so you need to integrate inbound with your other online and offline lead generation activities – Pay Per Click (PPC) Advertising, trade shows and more – to get the most out of all of them.
Convert
Once someone has visited your site you need to get their contact information – email or more – to be able to continue the conversation. That information has value to people, and to you, so you need to offer value in return. Provide visitors with useful and informative eBooks, whitepapers, tipsheets, Webinars, and more, in exchange for that valuable information.
Key conversion tools include:
Creating and optimizing Calls-to-Action (CTAs). Calls-to-Action are buttons or links that encourage your site visitors to take advantage of one of your lead-generating offers, like Download an eBook or Sign up for a Webinar. The more enticing and relevant you can make your CTAs, the higher your conversion rate will be, so continuously testing and improving your CTAs is key
Creating and optimizing Landing Pages. Every one of your CTAs will be linked to a Landing Page, where your visitors will fill out a form to opt-in to your offer. When they complete that form, they will become a lead and will become part of your ongoing sales and marketing conversation with them. The design and content of your Landing Page will have a big impact on your lead generation rate, so continuously testing and improving them is key as well
Contacts database. By tracking all of your interactions with your leads in a central database, you gain insights into how to make your messages more personal, relevant and effective
Close
So, you've opened up a conversation with a prospective buyer; that's great, but if you're going to stay in business for very long, you need to close the deal.
These are the key inbound marketing tools for closing new business:
Lead scoring.  Not every one of your leads is ready to talk to a sales rep. Lead-scoring gives you a numerical representation of each of your lead's sales-readiness so your sales team can reach out at the right time
Email lead nurturing. For the leads that aren't ready to buy yet, sending a series of emails tailored to their interests and the right stage of their buying journey makes sure that you're top of mind when they are ready to buy
Sales Enablement. Maintaining an ongoing conversation between sales and marketing is key to turbo-charging your closing rate.  It allows your marketing to reflect the kinds of real-world situations your sales team face in the marketplace. It helps make sure that the leads that marketing is bringing in are really your ideal customers.  And it arms your sales team with the right content at the right time to help close the sale
Closed-loop reporting. Integrating your Customer Relationship Management (CRM) systems with your marketing system allows you to understand which marketing activities drive sales so you're investing your marketing spend in the right places
Delight
Inbound marketing is all about providing the right content at the right time to the right person. When you do that for your existing customers as well as your prospective ones,  you give them reasons to buy more from you and you give them the tools to promote your business to their networks.
When you're talking to your existing customer base, targeted Calls-to-Action, personalized email marketing and social media are key to maintaining an excellent and profitable customer experience.
How does Fruition Interactive work with my company
Before you make any commitment at all to working with us, we'll work with you to identify your marketing goals for the year and your current activities. Then we'll provide you with an analysis of what new marketing activities you need to do in order to meet your goals and an estimate of the costs involved. We call this process our Strategic Insite™ process.
When you choose to move forward with us, we'll work with you to create a detailed marketing plan for the quarter, confirming your budget and mapping out the specific activities we'll do for you.
We'll repeat that process every 3 months to help keep your marketing actions strategically focused.  And every month we'll update you on the specifics of what we've done for you and on the results we've gotten for you. (And if we need to fine tune the approach as we go, we can do that, too.)
How much does inbound marketing cost?
To make your buying journey as easy and transparent as possible, we've created a series of flexible packages tailored to your specific needs for growth.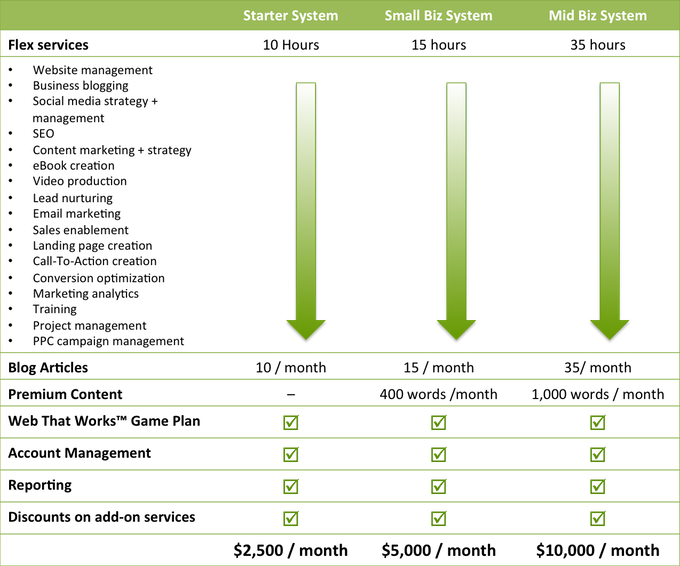 Which package is right for me?
Setting appropriate marketing budgets is one of the trickiest and most contentious decisions a business can make. But we find that a good benchmark for steady, but not aggressive, growth is about 5% of Gross Profit (Gross Profit = Revenue – Direct Costs of Goods Sold). Companies requiring stronger growth or who are trying to gain market share in a down economy may need to spend at a higher rate.
As part of our free, no obligation Strategic Insite™ process, we'll work with you to help set the right overall marketing budget, the right budget allocation to Inbound Marketing and the right activities mix to meet your growth targets.
Ready to get started?