This is the first in a series of posts where we take a deep look at one company's online marketing. The intention is to deliver constructive, actionable insights – not just for the business in question, but for any business that may be facing similar challenges.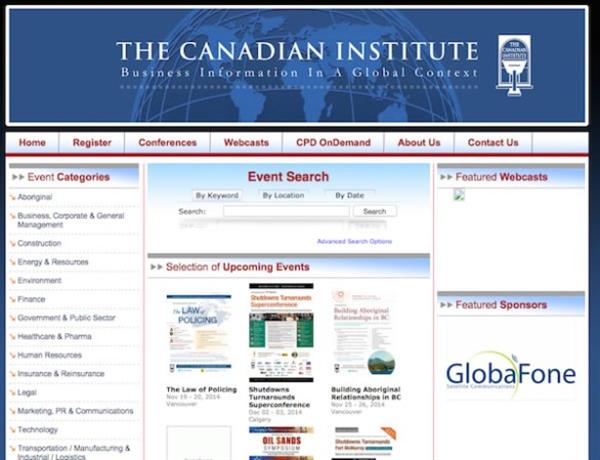 Overview of the business
For over 25 years the Canadian Institute has been a leading Canadian think tank. Today they produce over 200 events a year nationwide, serving decision-makers in all major industry sectors, the law, and public policy, with a view to providing information on the leading edge.
The Canadian Institute's Web site serves to promote the Canadian Institute's events, allowing delegates to register online with eCommerce functionality, as well as offering conference materials for sale and download and offering live and on-demand streaming for select conference proceedings.
Commercial success of the Web site depends on four factors:
Ability of the site to draw qualified traffic through content creation and traditional SEO activities, through social media amplification and – potentially – through paid media opportunities like Pay Per Click (PPC) advertising.
Ability of the Web site to convert visitors into leads through free content offers, such as document downloads and webinar sign-ups.
Ability of the Web site to convert leads into sales through automated lead nurturing with clear and frictionless conversion paths and strong calls to action
The organization's ability to engage influencers to become ongoing advocates for the Canadian Institute via social media.
The Institute's events typically have registration fees in the $2,000 to $5,000 range. Increasing event registrations by a mere 10 per month would increase monthly revenue by as much as $50,000.
Getting traffic
The Canadian Institute's Web site traffic is currently ranked just below 700,000th worldwide by Alexa. This likely translates into approximately 2,500-5,000 visits per month. Fruition Interactive's research tools suggest that search engines generate an approximate average of about 500-750 visits per month to the site. Unless this traffic is highly targeted and high-converting, the Canadian Institute will need to make significant investments in traffic generation in order to drive significant business results from the site.
Content: the good
Generating frequently updated, high quality content is key to generating Web site traffic in today's Internet marketing world. Companies that blog are 13x more likely to have increased year over year return on their marketing investment than companies that don't.
The good news for the Canadian Institute is that they are committed to blogging, with multiple daily updates. They maintain an RSS feed for the blog, which helps to automate social media amplification of the content and to share the content with partner sites.
Content: the bad
In order to be effective at generating traffic from search engines, blog posts need to be, at minimum, 350-450 words long. Canadian Institute blog posts are typically one or two paragraph excerpts of relevant coverage from professional media Web sites, with links to the main story on the third-party site. Continuing exclusively with this strategy is unlikely to assist in driving additional traffic to the Institute's site.
Content: recommendations
Social media: the good
Social media is a key tool for amplifying the marketing impact of organizations' online content. And, across the board, social media delivers almost double the marketing leads of trade shows, telemarketing, direct mail, or PPC advertising.
The Canadian Institute is having some success with social media channels. Their LinkedIn page has over 1,000 followers and they're appropriately using the channel to promote their event offerings to LinkedIn's business-focussed audience.
On Twitter, the Canadian Institute maintains 5 industry-specific feeds, cumulatively serving over 6,000 followers, with whom they share their blog content.
Social media: the bad
Because the Canadian Institute isn't creating original content for its blog, they don't have that content to share via social media channels. As a result, this channel sends traffic to a number of third-party sites, but very little to its own site. This is a missed opportunity.Of the organization's 5 Twitter feeds, only 2 (@CI_Legal and @CI_Energy) are attracting significant followings.
Social media: recommendations
Use Twitter and LinkedIn to amplify the new original content created for their blog
Learn from the successes of @CI_Legal and @CI_Energy and apply these learnings across additional verticals
Start using Twitter to promote relevant upcoming Canadian Institute events
Use Twitter and LinkedIn to promote additional content offers, like PDF downloads, archived Webcasts, etc.
SEO: the good
Today, the vast majority of all purchase decisions involve online search at some point in the decision-making lifecycle. And the 10 top-ranking results for most searches get over 80% of the traffic from search engines. Ranking highly for relevant search keywords is key to marketing success.
Although high-quality content creation is more important than ever for driving search rankings, traditional SEO practices like backlink creation and on-page keyword optimization are still important.
The Canadian Institute has a strong portfolio of over 2,000 high-quality backlinks from over 220 different sites to its site, resulting in a very respectable Google PR of 5 and home page MozRank of 5.07. This will make it easier to increase traffic from search engines as other pieces of their SEO strategy fall into place.
Beyond that, the Canadian Institute has adhered to the SEO best practice of leading their site's page titles with relevant keywords rather than with their organization's name.
SEO: the bad
The Canadian Institute's main impediments to SEO success are the lack of frequently updated, original content in their blog as well as lack of an apparent strategy around optimizing for specific relevant keywords.
Although the Institute's backlink portfolio translates into a high Google PageRank, the keywords that they rank highly for tend to be low-volume, low-relevance or both.Some pages are missing description, H1 and H2 tags, as well as "alt" tags for images. These are key invisible page elements for SEO.
SEO: recommendations
Implement a strategy for publishing fresh, original content on the blog
Identify high-value search keywords, document them and widely distribute them to all stakeholders
Optimize content on key pages around high-value keywords, with a keyword density of 1-3%
Use relevant "description" meta tags on all site pages, with a length of at least 100 characters. Conventional wisdom is that descriptions shouldn't be longer than 160 characters, but Fruition Interactive's independent research suggests that longer description tags can also be helpful
Use keyword-optimized H1 and H2 tags on all pages
Make sure that all images have "alt" tags
Continue to build out the site's network of backlinks
Paid media: the good
Pay-Per-Click advertising (PPC) can be an effective way for organizations to cost effectively drive qualified new traffic to their sites. Managed well, PPC campaigns have low costs and high conversion rates (the percentage of visitors who enter the organization's sales funnel).
Managing campaigns for the largest PPC advertising platform, Google's AdWords offering, though, is extremely complex – costs can spiral and traffic can plummet without an expert hand on the wheel.
(And also, a caveat: It's difficult to reliably get a 360° view of an organization's online advertising as an outsider. All of these observations are offered with a degree of skepticism.)
The Canadian Institute appears to have run 3 PPC campaigns using Google Adwords in the past several months promoting, respectively, their Corporate Counsel Forum, a cyber-security event and an environmental assessment and management forum. PPC advertising can be a very effective tool for promoting these kinds of events.
The extent to which the Institute has recently used other PPC platforms, such as LinkedIn ads, is unknown.
Paid media: the bad
In addition to targeting some high value keywords, the Canadian Institute also targets keywords that are unlikely to drive qualified leads to the site. For instance, it seems highly unlikely that people searching for "free legal help online" or "Super 8 corporate code" are going to be the audience for the Institute's Corporate Counsel Forum. Keyword relevance is key for the success of PPC campaigns.
The Institute appears to do limited testing and experimentation with the content of ads. As far as we can tell, campaigns run with one to three, at most, variations in ad content. Ongoing iterative testing of ad content, with multiple variations is a hallmark of successful PPC campaigns.
Paid media: recommendations
Use LinkedIn PPC advertising to target relevant audiences in government and the corporate world rather than keyword searches on Google
Use an ad re-targeting technology to reinforce messaging to people who have previously visited the site and increase lead generation and sales
To the extent that Google AdWords is used, work with a Google AdWords Certified professional to manage campaigns.
Driving leads + sales
An organization's site can attract significant visitors and still fail to meet its business goals if tools aren't in place to give visitors opportunities to put their hands up as being interested in certain subject areas, to nurture those leads through the entire buying lifecycle and, in the case of eCommerce sites like the Canadian Institute's, to eliminate friction in making an actual purchase.
Calls to action: the good and the bad
In order to effectively convert visitors into leads and sales, a Web site needs to do 3 things very quickly:
Convey relevance – answer the question "what is this about?"
Convey the value proposition – "why should I care?"
Convey a call to action – "what do I do next?"
The image above shows a predictive eye-tracking analysis of what visitors to the site will see in the first 3 seconds of their visit.
The good news is that visitors very quickly see the call to action for the Institute's featured event.
The bad news is that visitors are not getting very much information about who that conference is for (leaders in the energy industry), what benefit they'll get out of the event, or what city the event is in, in the crucial first 3 seconds of engagement.
And, more generally, visitors aren't getting much information about the Institute's overall relevance or value proposition in those initial 3 seconds.
These problems are also present on secondary site pages. The mailing list signup call to action does not significantly register in the first 3 seconds and no information about upcoming conferences registers in that crucial time frame.
When visitors land on a conference registration page, the challenges continue. The "Register Now" call to action is not significantly visible in the first 3 seconds of the visit.
Calls to action: recommendations
Redesign the site for greater overall visual clarity. Calls to action will stand out more when there is less visual clutter
Increase the screen real estate available for key calls to action, in order to better communicate the full relevance and value of the offers and to make the next step more clear
Use technology to segment site visitors and personalize specific calls to action to them based on their previous behaviour on the site
Offers and opt-ins: the good and the bad
In addition to having clear and compelling calls to action, a site's underlying offers need to be of high-value to visitors in order to generate leads. The best offers, from a conversion point of view, tend to be high-value, relevant, premium content, like downloadable eBooks or videos. Successful sites also have different offers that speak to each stage of the buying process – awareness, evaluation, and selection.
The Canadian Institute Web site has lead generation opt-ins on almost every page, which is an excellent start.
The bulk of the Canadian Institute's free offers are for email newsletter subscriptions. Fruition Interactive's independent research suggests that newsletter subscription offers have a very low lead generation rate, usually in the 1-2% range for all but the most extraordinary newsletters. Conversely, offers for unique, relevant, high-quality downloads like eBooks often have opt-in rates in the 20% to 40% range.
Offers and opt-ins: recommendations
Create at least one free, unique, high-value content download (such as an eBook, abridged conference proceedings, etc.) for each industry vertical the Institute serves
Use the opt-ins to trigger an ongoing series of highly-relevant lead nurturing emails, designed to encourage subscribers to progressively take the next step to becoming a customer
Lead nurturing
Because lead nurturing largely takes place via private email messages, we don't have enough information to be able to evaluate the Institute's activities.
Lead nurturing: recommendations
Implement or maintain an automated lead nurturing program triggered by on-site opt-ins
Progressively profile site visitors to build an increasingly detailed view of each visitor's interests
Progressively hone lead nurturing messages and frequency for increasing relevance to visitor's interests
Ensure all lead nurturing emails are optimized for mobile devices – most decision-makers read their email on mobile devices
Sales conversion paths: the good and the bad
Once a prospect has made a decision to buy, there are still pitfalls that can interfere with the sale. Over 70% of all online transactions result in an abandoned shopping cart, representing over $4 trillion in lost sales annually. 65% of those lost sales are potentially recoverable, however. To reduce abandonment rates and increase recovery rates, checkout processes need to be streamlined and optimized to allow for retargeting via email.
The Canadian Institute's event registration process is 4 steps long, with well over 30 distinct form fields that need to be filled out to complete a purchase. Some – but not all – of this complexity is necessary, but it will increase abandonment rates regardless.
Our testing shows that the visual clarity of event registration forms ranks in the bottom 21% of all Web pages.
The Institute does not gather registrant email addresses until the third of the 4 steps, significantly reducing their opportunities to retarget registrants who abandon registration in mid-stream.
The Institute's Live Webcast links on its conference pages lead to a general home page for all Web casts, forcing potential registrants to navigate through the site to find the Webcast they're looking for. At time of writing, there is no way to register for any upcoming live Webcasts and on-demand Webcasts do not appear to have a Web-based registration process at all (!).
Sales conversion paths: recommendations
Simplify the design of event registration forms to reduce visual clutter and to reduce the number of form fields, where possible
Re-design event registration workflows to collect name and email address at the beginning of the process, to enable email retargeting of visitors who abandon their carts
For repeat visitors, pre-populate previously completed form fields for all eCommerce workflows
Link Webcast calls to action directly to Webcast registration pages
Allow online registration for on-demand Webcasts
Enabling advocates
Prospective customers are 71% more likely to buy from you if they've received a referral from a friend or colleague through social media, and 90% of buyers trust social media purchase recommendations from their friends (compared to the less than 25% that trust advertisements). A study published in the Harvard Business Review found that investments in generating word of mouth referrals had more than twice the Return on Investment (ROI) of any other marketing program for the firms studied.
Social sharing: the good and the bad
Most of the Canadian Institute's conference pages include social sharing buttons. They are not, however, often used. This may be due to the fact that the buttons are not very noticeable amid the pages' cluttered overall design. It may also be too early in the buying lifecycle to ask most potential registrants to share that content.
The content of the Canadian Institute's Twitter channels almost exclusively comprise automated feeds from the Institute's blog. Because the blog content is, in turn, exclusively made up of third-party content, there's limited opportunity for advocates to help promote the Institute's content or programs on Twitter.
Influencer engagement: the good and the bad
The Canadian Institute has clearly identified major influencers – journalists, policy makers, business leaders, and others – in social media and taken positive steps towards incorporating those people and firms into their online network. The lists of accounts the Institute follows on Twitter is a highly relevant Who's Who.
To fully engage influencers in becoming social media advocates, however, it requires more than simply following them on Twitter; it requires a series of social media "touches" and prompts to become part of a conversation – favouriting their posts, retweeting their posts, bringing interesting material to their attention, responding to them when they reach out, and so on.
Enabling advocates: recommendations
As the last step of the registration process for both in-person events and Webinars, offer a clear, low-effort way – i.e., with a pre-written post (to which the registrant can make changes) where the registrant simply has to click a "post" button – for registrants to share event information via social networks such as Twitter and LInkedIn
Use social-media-aware marketing automation and CRM tools to automatically gather and record social media profile information for everyone who provides their contact information via the site
Use marketing automation software to create segmented lists of leads and customers and implement a marketing program to use those lists for monitoring and engagement
Implement a program for engaging industry influencers via social media