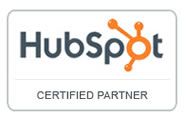 It's been all summer in the works, and believe me it's been hard to keep hush-hush about it, but Fruition Interactive is now a Hubspot Certified Inbound Marketing Partner.
What does that mean?
It means that the world leaders in Inbound Marketing – Hubspot –  have spent an in-depth 3-month process working with the Fruition team to test our knowledge and skill at using online content, Search Engine Optimization (SEO), social media marketing and email marketing to generate new traffic, new leads and new revenue for our clients. And it means we passed with flying colours.
It also means we passed the test when it comes to effectively using Hubspot's Inbound Marketing software to deliver those results to our clients.
In other words: Hubspot spent 3 months embedded with our team and came out the other side saying, "these guys know what they're doing when it comes to online marketing".
That's something that our customers, I think, have known for a while. But it's always nice to hear from a neutral source.
About Hubspot
HubSpot all-in-one marketing software helps more than 7,500 companies in 46 countries attract leads and convert them into customers. A pioneer in inbound marketing, HubSpot aims to help its customers make marketing that people actually love.