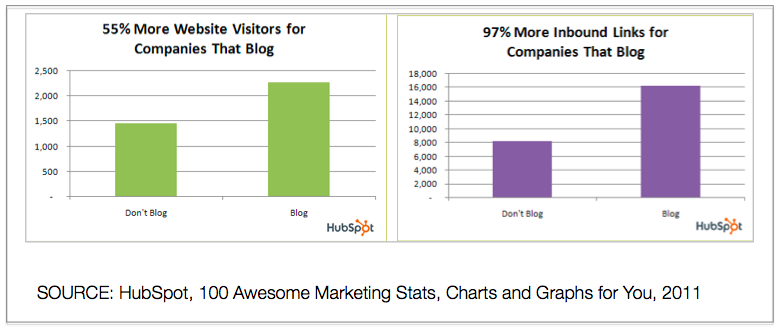 There are numerous avenues of Internet marketing to venture into, and a plethora of tips and tricks you can apply in each to make the method of marketing more effective. One internet marketing tip, however, encompasses several facets of interactive and digital marketing, and is proven to be effective on several levels: original, quality content is key.
You probably heard it before, said in a different way or written in a different manner. Regardless of how it is said, the truth of it remains, and the advice is worth heeding. In fact, ensuring your website blog provides your visitors with fresh, original content is statistically proven to lead to success:
Blogging - a very interactive and popular medium of content delivery - can result in 55% increase in visitors to your website
Search engines love the "crawlable" fresh content blogs provide, and indexes blog pages and entries to your website's benefit
People also love fresh, informative, and entertaining content on blogs
Companies that actively blog can have as much as twice as many Twitter followers compared to those that do not
Companies that actively blog can generate an astounding 97% more inbound links compared to those that do not
We can go on with the stats and examples, but the bottom-line is simple: content is key in Internet marketing.
What Quality Content Achieves and Why
Some of the great things you hear about quality content might seem a bit of a stretch - after all, can it really be that significant to a wide range of your Internet marketing efforts? Well, it can, and it is. Content isn't limited to textual elements. Original content vehicles include blogs, news releases, podcasts, slide show presentations, video, ebooks, and more.
Owing to this variety, quality content can drive marketing performance in your YouTube Channel, it can engage your social media following through posting content on social profiles, and it can extend your range beyond search engine results pages (SERPs). But what makes it so effective?
"Crawlable" is "indexable" content - As mentioned before, search engines love fresh content. Search engine bots can "crawl" any textual content within a webpage, and "index" or store these contents within a cache which it then retrieves for search queries. Every piece of cached content relating to your website or blog gives your business more chances of ranking in SERPs.
Quality, engaging content is "sharable" content - Your website's visitors who find your content engaging, informative, entertaining, helpful, or even just plain interesting will share your content through various platforms of sharing, thus effectively proliferating your website or blog name at no extra cost to you.
Original content is "linkable" - Other companies or websites in related niches or dealing with relevant topics will choose to link to high-quality, original content from your website. You don't have to ask them for the inbound links.
Great content proves your value - Your content shows the world wide web what you are, what you can do, and what you can offer. it showcases your core competency, your goods and services, or your expertise.
Combine all these advantages together and it's clear to see why content is key in Internet marketing. Your content is your website's messenger. It tells your market, your potential clientele, or your future business partners what you can do, how passionate you are about it, and how good you are with what you can offer. Take advantage of the myriad formats to create content on and the platforms you can use to deliver them. Remember this Internet marketing tip: original, quality content is key - it keeps your audience constantly engaged and proves your worth.